Burn
Vital Statistics

ID # / Designation

GR020

Real Name

Bernadette

Nicknames

Bernie.
Age
14
Gender
Female
Current Residence
Gotham City.

Other Info
Origin Statistics
Ethnicity
Unknown
Nationality
Unknown
Physical Description

Hair Colour

Brownish Red

Eye Colour

Bluish Green

Height

5' 5" (165 cm)

Weight

132 lbs (60 kg)
Relationships
Affiliation
Occasionally teams up with Team 013.
Enemies
Dealers, The Joker, Young Justice, people who get in her way.
Powers and Abilities
Powers
Pyrokinesis; Excellent Marksman
Weaknesses
The Cold; general human weaknesses except for Fire; Requires goggles to compensate vision
Equipment
Night Vision Goggles; Gadgets; AK-47; blade; .357 magnum semi auto.
Character Creation Notes

Creator

billiejoeischrist @ DeviantArt

Creation Date

2011
General
Physical Description
Burn has a strong muscular frame from years of training.
Personality
General Personality
Edit
Aggressive and manipulative she easily gains people's trust with a mask of innocence; people usually respond well before she stabs them in the back (sometimes literally) and runs off. Burn is also emotionally unstable.
Good Traits: Intelligence, great liar and actress, never shies away from a challenge.
Bad Traits: Anger, bitch, mean, foul mouth, smoker (keeps her warm).
Quirks: Has mild OCD and will repeatedly do things, likes the Beatles.
None, Burn lives only for the hunt
failing, bridges
Memorable Quote(s)
Edit
"Well if it isn't the idiot brigade, love to stay and chat but I got places to burn."
"Alright which one of you blurs took my goggles!"
"Some people have to die for the good of humanity."
"YOU DON'T... SHIT! ALL I WAS DOING WAS TRYING TO BE NICE, BUT NO YOU FUCKED THAT MISTER!"
Relationships
Mother: unknown
Father: unknown
Sibling(s): unknown
Other: unknown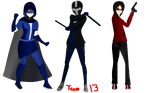 She doesn't 'hate' Zeke and SL.
Dealers, Joker, Young Justice, people who get in her way.
Love Interest
Edit
Burn's never mentioned anything in this matter, though she does seem to tense up or become violent when relationships are mentioned
Past: Bring it up, she'll try and kill you
Current: none
Battle
Powers & Skills
Edit
Pyrokinesis, Martial Artist, 'Toys'/Gadgets (including goggles that allow her to see), Excellent marksmen.
Pyrokinesis
PROS: allows her to control fire and not be burned.
CONS: does not work well in cold.


Gadgets
PROS: can utilize many different gadgets including special goggles that make up for her damaged eyesight and have night vision.
CONS:
AK-47, blade, .357 magnum semi auto.
Other Equipment
Edit
Hero and Villain
Fighting Style
Edit
takes enemies head on in hand to hand combat in a aggressive manner or if doubtful about strength of herself compared to opponent including sniping from large distance.
Strengths:
uses intelligence to outthink and confuse enemy as well and physical strength and agility
Weaknesses:
anger can make her not think straight and will occasionally over react and is vulnerable to things that all humans are except for fire, doesn't work well in the cold.
Background and Biography
Unknown history claims to have been doing this for six years. In past two months she has taken down scarecrow and multiple drug dealers.
Other Information
Trivia
Character Gallery
Community content is available under
CC-BY-SA
unless otherwise noted.