Merak
Vital Statistics

ID # / Designation

GR030

Team # - Team Title

N/A

Real Name

Leira

Nicknames

Harpy (Qeurt)
Age
18
Gender
Female
Current Residence
Her home, with Qeurt

Other Info
Origin Statistics
Birth Date
June 30
Zodiac Sign
Cancer
Ethnicity
Unknown
Nationality
Unknown
Physical Description

Hair Colour

Green

Eye Colour

Crimson (usually wears green contact lenses)

Skin Colour

soft peach

Height

1m 72cm (5'6")

Weight

60kg (152lbs)
Relationships
Mentor
Her aunt
Relatives
Axas (father), Qeurt (adoptive brother)
Affiliation
Has her own secret company called "Egea"
Enemies
Axas and anybody interfering in her job
Powers and Abilities
Powers
Find weaknesses through a close analysis, Adapts easily to compex technology, Elaboration of plans in short time
Weaknesses
Regular human weaknesses, needs time to find weak points on enemies, she's imprudent when Axas is involved in her work
Equipment
Transmitter, Secret weapon, Technological devices
Character Creation Notes

Creator

Atey

Creation Date

June 30, 2011
General
TO START MAKING YOUR CHARACTER PROFILE ON THE WIKI, PRESS THE "VIEW SOURCE" BUTTON ON THE TOP.
THEN COPY EVERYTHING HERE (USE "CTRL + A" AND THEN "CTRL + C" TO COPY EVERYTHING).
THEN LEAVE THE PAGE AND PRESS THE "CONTRIBUTE => ADD A PAGE" BUTTON ON THE UPPER RIGHT CORNER.
THEN NAME THE PAGE AFTER YOUR CHARACTER'S ALIAS/CODENAME AND SELECT "BLANK PAGE". PRESS "ADD PAGE".
THEN PASTE EVERYTHING YOU COPIED FROM THIS PAGE (USE "CTRL + V").
I SUGGEST YOU GO IN TO "SOURCE" MODE (UPPER TAB) WHEN EDITING SINCE YOU WILL BE ABLE TO SEE THE TAGS AND CODING IN THAT MODE.
NOW START TYPING IN ALL THE SPOTS THAT IT TELLS YOU TO ENTER STUFF. YOU CAN ALSO LEAVE IT BLANK.
YOU CAN DELETE THESE INSTRUCTIONS ON YOUR OWN CHARACTER PAGE OF COURSE.
LOOK AT Solar Cat'S PROFILE AS AN EXAMPLE OF HOW IT SHOULD LOOK.
WRITE A BRIEF DESCRIPTION OF YOUR CHARACTER HERE
Physical Description
ENTER CHARACTER PHYSICAL DESCRIPTION
Personality
General Personality
Edit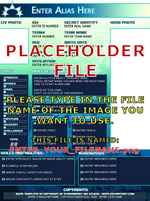 ENTER GENERAL PERSONALITY
Good Traits:
ENTER GOOD TRAITS
Bad Traits:
ENTER BAD TRAITS
Quirks:
ENTER QUIRKS
ENTER HOPES
ENTER FEARS
Memorable Quote(s)
Edit
ENTER QUOTES
ENTER QUOTES
ENTER QUOTES
Relationships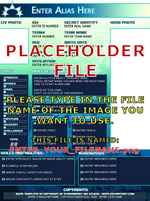 Mother: ENTER MOTHER
Father: ENTER FATHER
Sibling(s): ENTER SIBLINGS
Other: ENTER OTHER FAMILY
ENTER FRIENDS
ENTER FRIENDS
ENTER FRIENDS
ENTER ENEMIES
ENTER ENEMIES
ENTER ENEMIES
Other Notable Relationships
Edit
ENTER OTHER
ENTER OTHER
ENTER OTHER
Love Interest
Edit
ENTER GENERAL INFO ABOUT LOVE LIFE
Past:
ENTER PAST LOVE INTERESTS
Current:
ENTER CURRENT LOVE INTERESTS
Battle
Powers & Skills
Edit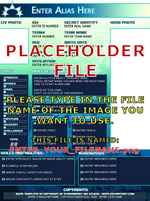 ENTER GENERAL INFO ABOUT SKILLS OR ABILITIES

ENTER ABILITY 1:
ENTER INFO ABOUT ABILITY
PROS:
ENTER PROS
CONS:
ENTER CONS


ENTER ABILITY 2:
ENTER INFO ABOUT ABILITY
PROS:
ENTER PROS
CONS:
ENTER CONS


ENTER ABILITY 3:
ENTER INFO ABOUT ABILITY
PROS:
ENTER PROS
CONS:
ENTER CONS
ENTER ARSENAL
Other Equipment
Edit
ENTER OTHER EQUIPMENT
Fighting Style
Edit
ENTER FIGHTING STYLE
Strengths:
ENTER STRENGTHS
Weaknesses:
ENTER WEAKNESSES
Background and Biography
ENTER BACKGROUND AND BIOGRAPHY

MAKE SURE TO USE BREAK AND PARAGRAPH TAGS TO KEEP IT NEAT LOOKING

CHECK FOR SPELLING AND GRAMMAR MISTAKES

AND TRY TO MAKE THE CHARACTER ROUNDED OR AT LEAST INTERESTING AND NOT OVERPOWERED OR MESSED UP
Other Information
ENTER OTHER INFORMATION YOU WANT TO INCLUDE.

YOU CAN COPY-PASTE THE "HEADINGB" TAGS TO MAKE NEW GIANT HEADER BARS FOR MORE INFO.
Trivia
ENTER FUN TRIVIA INFORMATION OR OTHER INTERESTING FACTS ABOUT THE CHARACTER
Character Gallery
Community content is available under
CC-BY-SA
unless otherwise noted.