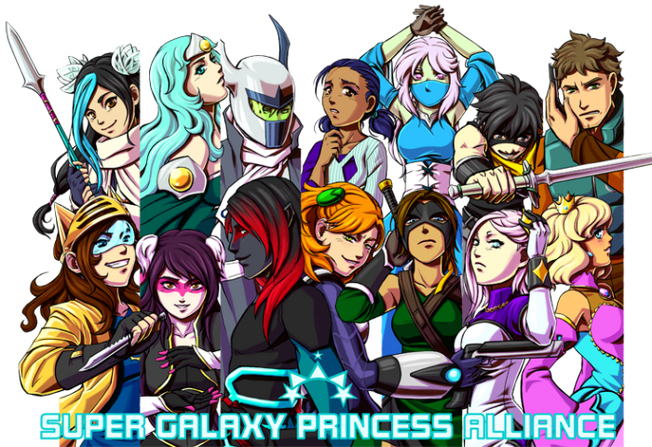 Characters - Some of the Heroes, Villains & NPCs of the SGPA!
Create your own characters and join in!
Site discussions
Latest Project: SGPA GENDERBEND CONTEST
SGPA GENDERBEND CONTEST Get ready to create an alternate reality companion ... or RIVAL for your OC in this contest to duplicate your character into a different gender.
SPECIAL THANKS
We couldn't have done this without the contributions of:
meibatsu (Solar Cat!) [1] and coolmoon51 (Elemento!) [2] and SAmaryllis [3]
What to do
Not sure where to start?
Questions? Look at the help forums or contact an admin. We'll be more than happy to help out! :)
General Disclaimer
Copyrights
Young Justice and all characters, episode ideas, etc. are all registered trademarks of Warner Bros. Entertainment and DC Comics. The SGPA Wiki is in no way affiliated with either companies, and is purely for non-commercial and personal use. Anyone is free to use information from this site, as long as you do not use that information by plagiarism or use it illegally in any way that infringes on the trademark. If you do copy text, it is requested that you provide a link to the website or web page. The operation of this website is believed to fall under the United States "fair use" copyright laws.
The SGPA Wiki holds copyright over its original information. This includes information that is directly concerned with the SGPA, its members, the original characters created, the images, and other works produced. Artists and authors hold copyright over their own original creations and works.
Some information on this wiki comes from our sister site http://youngjustice.wikia.com/wiki/Young_Justice_Wiki
Advertising
Advertising on Wikia is sold by Wikia Inc., and is not an endorsement of the products by Warner Bros., DC Comics, the Young Justice Wiki or its volunteers. To report an inappropriate advertisement, please contact Wikia Inc. directly using the contact form.
Upcoming Events
Genderbend Contest
Story Arc Bridge
Various Birthdays
Blogs
Polls
Featured OC
Featured Canon
Affiliated Sites